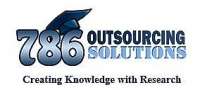 Lahore
Pakistan
Posted Date: 02 Apr 2018
Expiry Date: 05 Jul 2018
Basic Information
Total Positions

5

Experience:

1 Years

Job Type

fulltime

Travel Required:

Not Specified

Minimum Education:

Bachelors

Salary Range:

Confidential

Gender:

Any

Max Age Limit:

22-34 Years
REQUIRED SKILLS
academic content writing, academic writing, content management, internship
JOB DESCRIPTION
786 Outsourcing Solutions
We are looking for Content / Academic Writer.
The writers should be able to write on the diverse topics in their specific field.
The writer should be able to prepare research papers, assignments, essays, thesis, dissertations, research proposal, analytical paper, and financial reports.
The writer should follow different writing styles and formats including APA, MLA, Harvard, Chicago, IEEE.
Writer should be able to use Microsoft Word, PowerPoint, Excel, and other software according to requirements
The writer should be able to conduct extensive research on diversified topics and must be able to procure reliable sources.
The writer should demonstrate flexibility and can do attitude.
Requirements:
Excellent command on written English with sound grammar and syntax knowledge
Exceptional research skills
Having new concepts and ideas
fast learner
Proficiency in MS Office (Word, Excel, PowerPoint)
Ability to handle tight deadlines
5,000
40 hours per week
Customer Care
1 Years
fulltime
Bachelors
22-34 Years
We are looking for Content / Academic Writer.

The writers should be able to write on the diverse topics in their specific field.
The writer should be able to prepare research papers, assignments, essays, thesis, dissertations, research proposal, analytical paper, and financial reports.
The writer should follow different writing styles and formats including APA, MLA, Harvard, Chicago, IEEE.
Writer should be able to use Microsoft Word, PowerPoint, Excel, and other software according to requirements
The writer should be able to conduct extensive research on diversified topics and must be able to procure reliable sources.
The writer should demonstrate flexibility and can do attitude.

Requirements:

Excellent command on written English with sound grammar and syntax knowledge
Exceptional research skills
Having new concepts and ideas
fast learner
Proficiency in MS Office (Word, Excel, PowerPoint)
Ability to handle tight deadlines