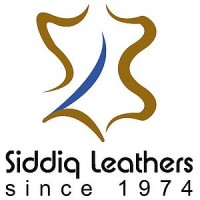 Company Information
Siddiq Leather Works symbolizes the best in technological and innovative excellence in leather production. Incorporated in 1974, SLW production unit is ranked amongst the most modern production units in Pakistan, comparable with any other modern unit in the world. SLW exports its top quality leathers to over 36 countries worldwide and participates in all the top rated world leather fairs annually.

Caring for the Environment is SLW's top priority and it has gone the extra mile to achieve the ISO-9001-2008 & 14001-2004 certifications, which not only give it an excellence in the quality of finished products, but also a constant check on the manufacturing process, to ensure that 100% environment-friendly procedures are being used. SLW is proud to state that it is the first Pakistani industrial unit which has installed solar water heating system to heat up the process water being used in the dyeing process. The system can heat 60,000 liters of process water up to 55C° daily. It is an environment and Eco-Friendly system which produces no green house gases.

SLW comprehend to value Human Resources and believes that continuous professional development not only strengthen organicational culture but also plays a pivotal role in producing the best in quality, quantity and systems development. Thus, our team of professionals from the leading business and technological institutes of Pakistan and UK make us proud to have skilled and well-informed HR at SLW.

This ISO-9000 certified company enjoys the proficiency and experience of the Siddiq Shafi Group that has been built-up and handed down through over 6 decades of pioneering existence in the leather industry.

Siddiq Leather Works (Pvt.) Ltd which has over 500 employees and an annual production capacity of about 24 million sq.ft. has now, with its advanced technology and innovative excellence, taken leather production to the next level of particularly creating and producing new leather articles, season based, to its valued customers in over 36 countries Worldwide.