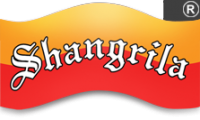 Company Information
When it all began about 23 years ago, nobody could have even dreamt that such a small company would one day become a leading national food brand.

Innovation for Good

SHANGRILA took over the challenges in domestic markets by setting up a diminutive manufacturing unit in Karachi in 1988 for its seasonings; soy & chilli sauces. Later in the late 90s, the range was supplemented by Tomato Ketchup drawing a huge success due to its quality, taste and innovative packaging; initially with the 100g sachet which was a one of its kind pack during that era and later the Stand Alone Aluminum Foil Pack with a nozzle & a screw cap. The 100g pack managed to wedge through consumers in developing the ketchup market among the masses, while 1Kg SAP catered to economy. Early in 2000s, SHANGRILA enhanced its portfolio with Pickles-in-oil in Stand Alone Pouches for the first time in the history of commercially produced pickles, and this resulted in a steep vertical ascent in the brand's growth in the following years.

Continuous product and packaging innovations, besides advancement of the supply chain process, removal of bottlenecks, and modernization of manufacturing facility with European technology cruised SHANGRILA ahead of the competition. SHANGRILA has been persistently taking on the tough situation in the industry, and has managed to create depth, as well as width for itself, moving at a pace faster than its rivals.

With a phenomenal multifold-fold rise, SHANGRILA (Private) Limited has become a brilliant success story stretched not only throughout the country, but internationally as well, managing 4 product categories; ketchup, sauces, seasonings, pickles-in-oil under the brand name of SHANGRILA and another brand FRUITI-O drinks.

Internationally Accredited

To increase the acceptability of SHANGRILA products locally and globally, the company has taken the lead in implementing the industry's best manufacturing practices and obtaining internationally acclaimed certifications. SHANGRILA was among the first few in the food industry to obtain the ISO 9001-2008 Quality Management System & ISO 22000-2005 Food Safety Management System certifications along with HALAL certification from SANAH the South African National Halal Authority. It is also a member of the Association for Dressings & Sauces, USA. Apart from certifications and accreditations, SHANGRILA has consecutively won Brands of the Year Award, Consumer Choice Award and Global Food Safety Award over the years.

Global Footprints

SHANGRILA has a strong distribution network in all major towns with more than a hundred distributors nationwide. SHANGRILA has also made inroads in numerous countries across the globe, including markets like USA, Canada, UK, EU, Middle East and Africa.

Prospering Like Never Before

With SHANGRILA spreading wings all over the globe, acquiring key markets & strategically developing new products, there was a corporate need felt to identify with a wider scope .The company started working on new food related projects & products. All this has led to strategic realignment of resources & focus giving birth to a new brand FRUITI-O drinks.

Tradition to look Beyond

Reaching new heights and breaking newer grounds is something that's regarded as the motto of work at SHANGRILA. Today, fully geared with an undying passion for success, SHANGRILA is fueled by the dynamic drive that has shaped its yesterday, fascinated its today and tomorrow.

The company's inner spirit is one of motivator; participative culture and constant strive for inspiring targets and new initiatives to broad – base our products' portfolio. This ambitious spirit is reflected in the aggressive, non-compromising growth the brand has achieved nationwide. Targeting high growth in terms of revenues over the years in the domestic market, there has been a quantum increase in both distribution and sales.

Passion Towards Corporate Brand Building

SHANGRILA is the leader in producing nutritious, innovative, halal and tayyab food products within its categories, and since long, it enjoys nationally acknowledged patronage. SHANGRILA, as a brand, appreciates every honor it receives, and works hard to ensure that its award-winning standards remain high, but there's nothing quite like being recognized as a good, fair place to work at. As a company it treats its employees and community with the respect and gratitude they deserve.