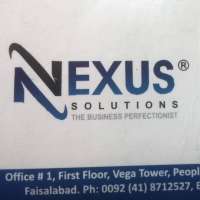 Company Information
Nexus Solutions is a call center in Faisalabad,Pakistan which is best equipped in terms of call center technology.We offer a range of Contact center/Call Center solutions as well as BPO services.
Our excellent and competent staff have a solid experience in the handling of customer service relation as well as telemarketing.We offer our clients with courteous,professional,knowledgeable and with crystal clear voice quality.Customized answering with your personalized greeting and 24/7 nationwide telephone answering service.
We enable our clients to meet their sales objectives by offering them quality services.Our program offeriing include the folowing
Outbound Sales
Order Taking and fulfillment
Lead Generation
Product Information requests subscription renewals.