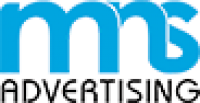 Company Information
MNS ADVERTISING started its journey in 2009 with a motto to provide integrated advertising and marketing solutions under one roof either its print, electronic, outdoor, creative or digital media at cost effective creative solutions. We are small in size but we are professional. We understand the evolution of technology and its impact on customer's behavior and interaction. We work according to your specific needs so that you can reach to your real customers and exact audience to your business. We mainly focused on quality work and committed to provide you measurable and valuable results with our eminence and distinctive work.

Providing quality work to their customers is their drive on the base of which they come up with new-fangled, innovative and contemporary approaches. They consider "client's satisfaction" factor most worthy one and reverentially work with them to gain their gratification and contentment.

Being known of the technological work and practically following technological approach are two different things that every company doesn't understand. We can make an effective yet reliable partnership with their clients since they know the importance and significance of their produce and amenities. They keep pace with the modern World and stay up to date of any newer strategies in the market regarding their advertising or marketing work.

We believe in making an impact while breaking all barriers of traditional operations. Our mission is to be our client's preferred partner by capitalizing on our unique yet effective work methodology.