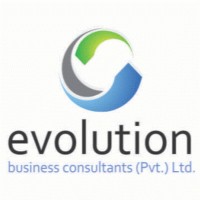 Company Information
Evolution Business Consultants (Pvt.) Ltd. almost 8 years ago, started off with the grace of Almighty Allah as a business consultancy firm that offered expert advice to new and upcoming businesses. Since then our vision and aim has been to provide consultancy services for every type of business and at every level of its operation so that our Clients can invest their time to focus purely on their business activity and let us take care of everything else.

We are following the very same path and now, with the Grace of Almighty Allah, Our journey that began as a small entity has now been turned into a prestigious private limited organization with teams of Professional Business Consultants, Accountants, Lawyers and I.T. Analysts dedicated to serve, the business community, under one roof, with expert advice and all the possible services that enable a business to start and grow, so that our clients don't have to run from one type of consultancy business or department to another.

In the past 6 years we have helped the launch and growth of over 500 business, Our clients success is our success and our clients happiness is our profit. We have always believed in, and advocated for, making an effective network to grow together.

Today, our services include everything starting from Business Name Search and Registration/Incorporation, all the way through copyrights, patents, book-keeping, tax-returns, marketing, I.T. setup and legal advice.