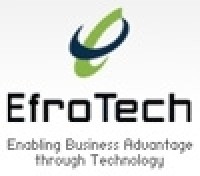 Company Information
EfroTech, we specialize in delivering business productivity solutions on the Web-Based, Client-Server and SAAS/ASP models.
EfroTech is completely focused on providing customized and packaged web and client-server based marketing and management solutions to the FMCG and HCFDHealthcare, Confectionery, Financial and Distribution industries.
We are a global software solutions supplier for Fortune 500 FMCGs and Financial Services companies, covering Pakistan, Afghanistan, Central and South Africa, MENA and Latin America.
Mission:
To become the FIRST choice for HR, Marketing and Supply Chain heads across Asia and the GCC for their Information Technology needs.