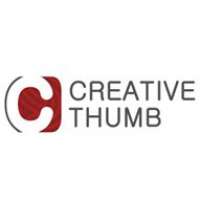 Company Information
Our Vision

Creative Thumb is a dynamic and professional IT services provider that serves enterprises and individuals, helping them meet the challenges of the global economy. We offer diverse IT services, providing dedicated teams for website development, redesigning and maintenance. Our experienced project managers apply a mature development methodology, striving to exceed our client's business expectation, and ensuring the success of projects. We have expertise ranging from consulting on business and technology, to creating innovative technology solutions. Our vision shapes the culture at Creative thumb, which lays a strong emphasis on innovation and thought process.

Why Us?

More than any other factor, it is the quality of our people; their character, philosophy, ownership and style, that most distinguishes Creative Thumb from any other firm in this business.

We see the world through our clients' eyes, from their point of view. We use their perspective to guide everything we do.

We are confident, experienced, candid and objective, that helps us turn the complicated into simple.

We believe in long term relationships. We believe in growing with our clients.